---
news
CCIT 2005
27 Oct 2005
On november 19th, in Turin, will take place the national event of Creative Commons Italy, the CCIT 2005.
Here you can find the program of the entire day.
We'll be there to support this event, we feel part of it.
Raln on op3n.net
25 Oct 2005
Alvp, one of the tracks of our first publication, Retorno a La Nada by Lezrod, was selected for the last sweet mixtape released by the Op3n project and assembled by Phono.ve from Ailimaf netlabel.

Find it here.
14 Oct 2005
Diatribes is an improvisation project formed by two jazz musicians, drummer Cyril Bondi and saxophonist Gael Riondel, and D'Incise, an electronic producer focused on sound designing.
The meeting of these musicians has created a hybrid between two different conceptions of experimentation in music; free jazz and manipulation of cold electronic sounds.
This concept seems to be quite simple since you listen to it: digital noise added to nervous drumming improvisation, shrill sax matched with a flood of saturated frequencies, real-time sampling and effects manipulation over intricated instrumental patterns. Definitely not simple.
Five tracks that split your perception of sound in a "diatribe" between electronics and analogics where you'll find difficult to distinguish one from another in an active listening/perception and interpretation of music.
This is what you'll find through this five brief, but intensive, excerpts taken from two different improvisation sessions. Furthermore at the end of the ep there's a remix made by the electronic mind of the project, D'incise, who immerses instrumental samples in a colder ambient mood to take the listener one step further in the wintry world of Diatribes.
Definitely not simple.

Archived News
---
2009
2008
2007
2006
2005
---
Mailing List
---
Last Releases
zym026
Alessio Ballerini - Blanc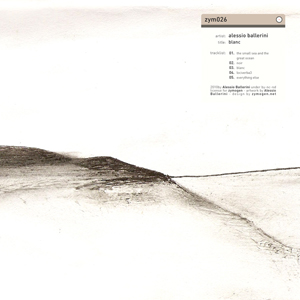 "Blanc" is a concept album that does not represent opposing views, but dissimilar ones. Downloadable from Zymogen the release is also accompanied by 2 videos and 15 drawings. The two videos were creat...(more)
zym025
Nicolas Bernier + Simon Trottier - The Market Fresh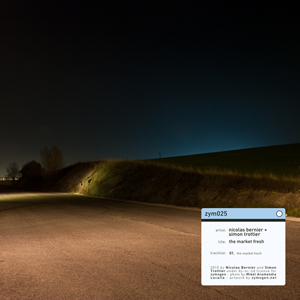 Nicolas Bernier and Simon Trottier are two talented musicians from Montreal, Canada. Nicolas is an electroacoustic artist and founder of Ekumen collective more recently famous for his live performance...(more)
zym024
Werken - Sum
Sum is the debut album of Werken, one of the aliases of Tilman Ehrhorn known for his releases on Mille Plateaux and Resopal Schallware.
Working full time as saxophone and reed player, composer, produ...(more)
---
---