---
news
Data Transfer part 2
22 Oct 2007
In March 2006, David Velez, aka Lezrod, released the seminal album, Data Transfer, here on Zymogen.
It was a collaborative project, in which he shared his audio tracks with many artists from all around the globe, using the internet as a medium.

The follow up to this project, Data Transfer 2, is now available on the very nice Eko label, featuring Karras, Christopher McFall, Sascha Neudeck, Pangea (Juan Antonio Nieto), e:4c (Hélder Vasconcelos, José Diogo Correia), Darren McClure, Kate Carr, Juan Jose Calarco, Fabian Moncada, Ben Owen, Gill Arno, Richard Garet and Andy Graydon.
Archived News
---
2009
2008
2007
2006
2005
---
Mailing List
---
Last Releases
zym026
Alessio Ballerini - Blanc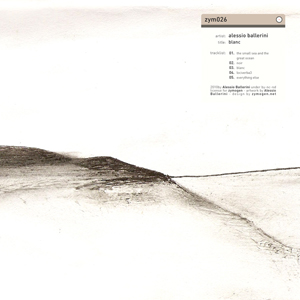 "Blanc" is a concept album that does not represent opposing views, but dissimilar ones. Downloadable from Zymogen the release is also accompanied by 2 videos and 15 drawings. The two videos were creat...(more)
zym025
Nicolas Bernier + Simon Trottier - The Market Fresh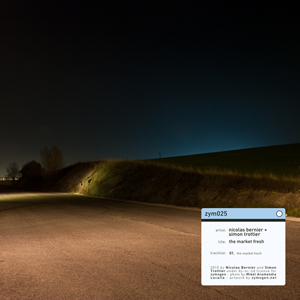 Nicolas Bernier and Simon Trottier are two talented musicians from Montreal, Canada. Nicolas is an electroacoustic artist and founder of Ekumen collective more recently famous for his live performance...(more)
zym024
Werken - Sum
Sum is the debut album of Werken, one of the aliases of Tilman Ehrhorn known for his releases on Mille Plateaux and Resopal Schallware.
Working full time as saxophone and reed player, composer, produ...(more)
---
---