---
news
28 Nov 2007
Porcelain in the backpack is Marcus Held from Leipzig, Germany, and we are glad to release 'Sand and Loam', a six track ep, which is his very first release.

Marcus makes a very special blend of electronic music, combining strange instruments, field recordings, and hyper processed sounds. However, what we feel is most important about his music is the emotional emphasis placed in each of his tracks, regardless of the sonorous differences between them.

His particular approach to making music involves taking sounds from an array of sources, particularly acoustic instruments. The composition process which follows involves a kind of granular synthesis, whereby he creates a unique flow of organic and nearly tangible sound. Tracks like 'The Burrowbuilder Comes Home' and 'The Branch was High and the Way was Long' are perfect examples of this, as melodies are lost in waves of overlapping sound.
Sand and loam is another moving piece of work, both evocative and haunting. Each track seems to tell a nostalgic story of the past, with some deep seeded melancholic significance, that the listener is never meant to let go of or forget.
Out there
15 Nov 2007
Thirteensongs, which is a sub-label of 12rec and publisher of mix tape releases, came to the end last week.
All high quality mix-tapes focused on experimental music and hosted on the 13s website will stay online.
For the occasion, Filippo Aldovini's 'Modulating Docks' will be streamed on Systrum Systum radio during the month of November.

Another important piece of news is that Ten and Tracer has just released a new EP on Bitlab records called 'Desert Book' and you can buy it digitally or on cd.
Support our artists!
Zymogen goes ClubtoClub
07 Nov 2007
This weekend, Turin hosts the seventh edition of Club to Club: a huge three day festival showcasing a wide range of live electronic music, from artists such as, Vladislav Delay, Mika Vaino, Jeff Mills, Troy Pierce, Akufen, William Basinski and many others.

From 17:30 on Friday the 9th, Fnac store will host a speech entitled 'Netlabel: la nuova frontiera delle produzioni indipendenti'. Here, it will be possible to interact in live discussions regarding the netlabel world.
Filippo Aldovini, Zymogen coordinator, will participate reporting his direct experience with Zymogen, and will also talk about the possibilities that the net could give to promote experimental music.
Archived News
---
2009
2008
2007
2006
2005
---
Mailing List
---
Last Releases
zym026
Alessio Ballerini - Blanc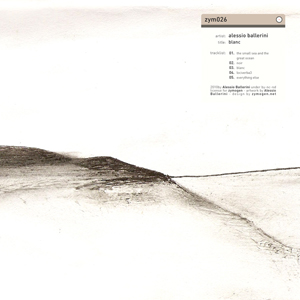 "Blanc" is a concept album that does not represent opposing views, but dissimilar ones. Downloadable from Zymogen the release is also accompanied by 2 videos and 15 drawings. The two videos were creat...(more)
zym025
Nicolas Bernier + Simon Trottier - The Market Fresh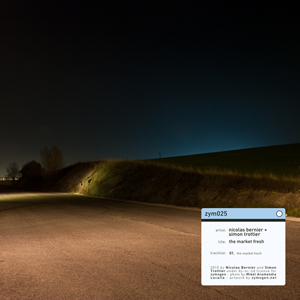 Nicolas Bernier and Simon Trottier are two talented musicians from Montreal, Canada. Nicolas is an electroacoustic artist and founder of Ekumen collective more recently famous for his live performance...(more)
zym024
Werken - Sum
Sum is the debut album of Werken, one of the aliases of Tilman Ehrhorn known for his releases on Mille Plateaux and Resopal Schallware.
Working full time as saxophone and reed player, composer, produ...(more)
---
---