---
news
Nettare
06 Dec 2008
Zymogen is officially part of Nettare, the Italian-netlabel community.
Nettare it's not only a website, but a way of viewing netaudio in Italy, beyond music genres and styles.
Today Nettare will be presented all around the country with showcases in seven different cities: Bologna, Roma, Torino, Milano, Firenze, Genova and Cosenza. On the same day a compilation will be published with 20 tracks representing 20 different netlabels.
Zymogen will be represented by Giuseppe Cordaro, aka con_cetta, who produced the track "Completion", the first unreleased material after the acclaimed debut on Moteer. Please go to the website, check all the events, and download the special compilation.
Support Nettare!
Creek caught Fire
03 Dec 2008
Jason Corder, aka offthesky, is busier than ever and after reaching the milestone of 30 releases in 2008, he has just came out with a new album.
"Creek caught Fire", released on Thelandof label, is the follow up to the 12k. term ep "Form Creek", and is now available as a limited edition in either hand printed or digital form.
Archived News
---
2009
2008
2007
2006
2005
---
Mailing List
---
Last Releases
zym026
Alessio Ballerini - Blanc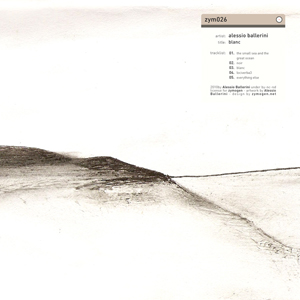 "Blanc" is a concept album that does not represent opposing views, but dissimilar ones. Downloadable from Zymogen the release is also accompanied by 2 videos and 15 drawings. The two videos were creat...(more)
zym025
Nicolas Bernier + Simon Trottier - The Market Fresh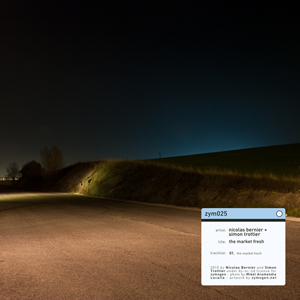 Nicolas Bernier and Simon Trottier are two talented musicians from Montreal, Canada. Nicolas is an electroacoustic artist and founder of Ekumen collective more recently famous for his live performance...(more)
zym024
Werken - Sum
Sum is the debut album of Werken, one of the aliases of Tilman Ehrhorn known for his releases on Mille Plateaux and Resopal Schallware.
Working full time as saxophone and reed player, composer, produ...(more)
---
---