---
news
08 Mar 2007
"Baker's Blood" is the latest offering by Ten and Tracer, a renowned name in the American electronic music scene.
Following a long period of silence, he produced one of the most exciting EPs of 2005, entitled "In Such a Fix to be so Fertile", the first release published by the excellent Rope Swing Cities netlabel.
This release surprised most people who had been familiar with Jonathan's previous work, as something unusual had occurred during its conception. Namely, processed beats and organic sounds had been moulded together to form a dark and deep aural experience; a significant shift from his previous warm and melodic compositions.
In the 2006, the people at Rope Swing Cities were fortunate enough to be able to release another of Jonathan's fine productions, entitled "Vinculum"; this time inspired by different feelings, but composed with the same previously inspired elements.

Now it's time for "Baker's Blood" and we feel very glad to have in our 'virtual hands' a four track representation of Jonathan's current sound and evolution since "In Such a Fix to be so Fertile".
Lets just say that any attempt at describing it would not do it justice, as you will find radically different sounds blended together in an impressive manner: tribal percussion, glitch aesthetics, field recording, found sounds. These are musical concepts that are very far one from one another, but in these tracks there are eloquent links to make them work and communicate. The real beauty lies in fine details, and you should listen to each track carefully in order to explore every pattern, sample, beat, gradient, and melody, as something really special happens there. It is creative expression its best!
Big Honors
06 Mar 2007
Beyond already having artists nominated into various categories via public votes, Zymogen has also been selected by the Qwartz Jury to compete for the 'Qwartz label' award among other great labels, such Mutec_rec, Staubgold, Gagarin and Klein Records.
This is the greatest honor we could ever imagine, as well as the strongest incentive to continue improving and transforming Zymogen into something special.
We're preparing something in particular for our participation at Qwartz Gala and soon there will be more details about that.
2007 is the year...keep your eyes peeled.
Archived News
---
2009
2008
2007
2006
2005
---
Mailing List
---
Last Releases
zym026
Alessio Ballerini - Blanc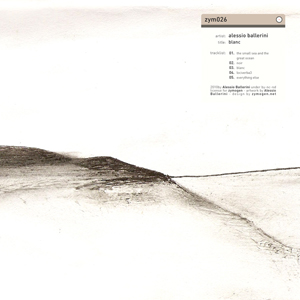 "Blanc" is a concept album that does not represent opposing views, but dissimilar ones. Downloadable from Zymogen the release is also accompanied by 2 videos and 15 drawings. The two videos were creat...(more)
zym025
Nicolas Bernier + Simon Trottier - The Market Fresh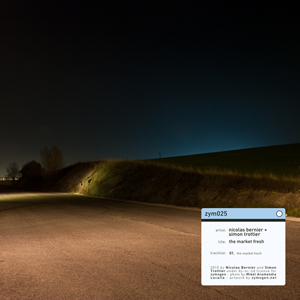 Nicolas Bernier and Simon Trottier are two talented musicians from Montreal, Canada. Nicolas is an electroacoustic artist and founder of Ekumen collective more recently famous for his live performance...(more)
zym024
Werken - Sum
Sum is the debut album of Werken, one of the aliases of Tilman Ehrhorn known for his releases on Mille Plateaux and Resopal Schallware.
Working full time as saxophone and reed player, composer, produ...(more)
---
---