---
news
21 Mar 2008
con_cetta is the first Italian artist on Zymogen, and we're extremely glad to have such a great musician representing the label's home country. Giuseppe, con_cetta's real name, is from Sicily but now lives in Milan, which is the leading commercial and financial center of Northwestern Italy.

Sclerosis is his debut under this moniker and could be seen as Giuseppe's attempt at escaping the chaos of the industrial metropolis, generally seen as lacking the color and poetry of everyday life. This release is full of passion while the contrast between the two extremes is clearly audible and molded into the sound.
Giuseppe explores many different languages in the field of electronic music, but his composition process is structured in a particular way.
He begins with samples taken from different recording sessions and then processes every sound using Gleetchlab, a software programmed by Tobor Experiment, which, with its very intuitive interface, gives Giuseppe all the possibilities to express his feelings and imagination in a digital format.
Cesura's sequel
16 Mar 2008
Marihiko Hara has just released his brand new album on U-cover, entitled 'Reflexion, und dann, Metamorphose'.

"Sparely layered textures with low-key digital processed piano and subtle melodies hidden underneath. Clicks and silences painted into thin soundscapes. Most of his tracks reminds us to the better work of Japanese minimalist electronic composer Ryoji Ikeda. 'Reflexion, und dann, Metamorphose' is maximum minimalism and pure zen"

You can support our artist by buying the album on U-cover mailorder.

Archived News
---
2009
2008
2007
2006
2005
---
Mailing List
---
Last Releases
zym026
Alessio Ballerini - Blanc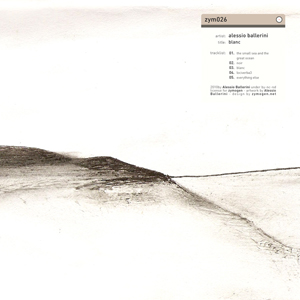 "Blanc" is a concept album that does not represent opposing views, but dissimilar ones. Downloadable from Zymogen the release is also accompanied by 2 videos and 15 drawings. The two videos were creat...(more)
zym025
Nicolas Bernier + Simon Trottier - The Market Fresh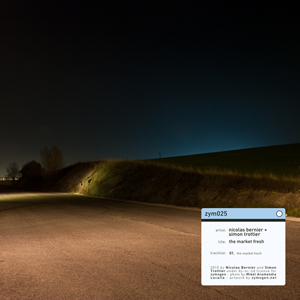 Nicolas Bernier and Simon Trottier are two talented musicians from Montreal, Canada. Nicolas is an electroacoustic artist and founder of Ekumen collective more recently famous for his live performance...(more)
zym024
Werken - Sum
Sum is the debut album of Werken, one of the aliases of Tilman Ehrhorn known for his releases on Mille Plateaux and Resopal Schallware.
Working full time as saxophone and reed player, composer, produ...(more)
---
---