---
news
24 Mar 2009
Nicola Ratti is one of Zymogen's favourite Italian composers.
After the acclaimed album From The Desert Came Saltwater, published on Anticipate in 2008, and the collaborative project Bellows with Giuseppe Ielasi, Nicola gives us a unique composition called Úsope.
This work was originally done for the exhibition "Úsope reste ici et se repose"#1, which took place in Montpellier between October 30th and December 13th 2008.
It's a single track based on processed field recordings taken in Montpellier between the 22nd and 25th April of the same year and was conceived of as the musical background for the exhibition.
Nicola Ratti's music is based on the search for a personal language that is capable of joining basic song structure, electro-acoustic experimentation and the use of sounds extracted from the environment in which we live. He does this with a sensibility that ranges from improvisation to the construction of sound via sheer artisanship.
Archived News
---
2009
2008
2007
2006
2005
---
Mailing List
---
Last Releases
zym026
Alessio Ballerini - Blanc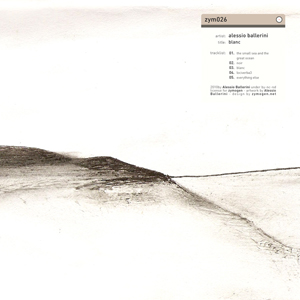 "Blanc" is a concept album that does not represent opposing views, but dissimilar ones. Downloadable from Zymogen the release is also accompanied by 2 videos and 15 drawings. The two videos were creat...(more)
zym025
Nicolas Bernier + Simon Trottier - The Market Fresh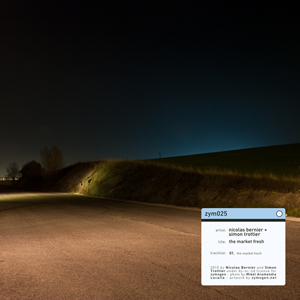 Nicolas Bernier and Simon Trottier are two talented musicians from Montreal, Canada. Nicolas is an electroacoustic artist and founder of Ekumen collective more recently famous for his live performance...(more)
zym024
Werken - Sum
Sum is the debut album of Werken, one of the aliases of Tilman Ehrhorn known for his releases on Mille Plateaux and Resopal Schallware.
Working full time as saxophone and reed player, composer, produ...(more)
---
---