---
news
Zymogen myspaced? doesn't hurt so bad...
27 May 2006
The resistance is over.
We're on myspace...hopefully not only for some "thanks for the add".
More details at myspace/zymogenlabel.

18 May 2006
Takeshi Nakamura is back on zymogen for another brilliant work taking his sound to another level of complexity. This 6 tracks ep has been produced after Ordinary Days following similar processes of composition, always keeping a quality level near to the maximum and creating sonorities similar to his previous record without any loss of intensity.
Takeshi accustoms us to pure geometric structures stained with digital rough sketches, sweet discords and harmonious glitches, but with these compositions he overcomes his strandards.
Wonderful...can you find a better word to start this promenade through artificial landscapes?
"I Sink" moves from frenetic beats with hissing basses in constant evolution and slow pads expanding under robotic voices, a lesson of composition. The following "Cloud" is an hypnotic sequence with cuts of a melody lost in reverbs wich becomes concrete into "Defeat", a groovy declaration of digital pessimism, totally amazing! During "Particle" an incredible flow of silicic acid will reach you neurons, floating high frequencies over a rough snares wich keep up the fragile structure of the beat. The conclusion of the ep is "Sundial", a long evolution of a simple idea based on soft loops slowly submerged by an enormous flux of ultra-low frequencies and drones for an intense growth wich finishes in the same way it started like an infinite mantra; personally one of the best song created by Nakamura so far.
With this work Takeshi shows once again his abilities to creating deep experimental music and we feel really lucky to have the possibility to release a work of this kind of quality...an "Easy Listening" near perfection.
Archived News
---
2009
2008
2007
2006
2005
---
Mailing List
---
Last Releases
zym026
Alessio Ballerini - Blanc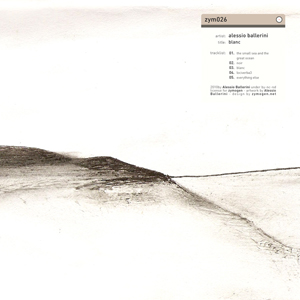 "Blanc" is a concept album that does not represent opposing views, but dissimilar ones. Downloadable from Zymogen the release is also accompanied by 2 videos and 15 drawings. The two videos were creat...(more)
zym025
Nicolas Bernier + Simon Trottier - The Market Fresh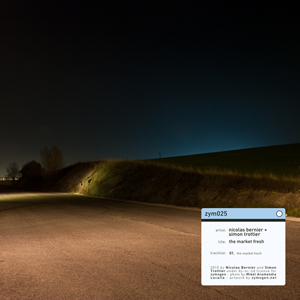 Nicolas Bernier and Simon Trottier are two talented musicians from Montreal, Canada. Nicolas is an electroacoustic artist and founder of Ekumen collective more recently famous for his live performance...(more)
zym024
Werken - Sum
Sum is the debut album of Werken, one of the aliases of Tilman Ehrhorn known for his releases on Mille Plateaux and Resopal Schallware.
Working full time as saxophone and reed player, composer, produ...(more)
---
---