---
news
Brainstorming into a glasshouse
28 Jun 2006
The new release is nearly ready but there're also other important news.

The first issue of a very special series called "Glasshouse" will be released soon featuring fresh material from zymogen artists on limited mini-cd which will be available on the future store section of zymogen.net...our music is going to become concrete.

Moreover on 21 of july we'll take part at the CCfestival, a concept festival focused on Creative Commons that will take place near Venice.

More details soon.

p.s. check the new issue of Multilink Magazine...excellent as always.
Broadcasting take2
13 Jun 2006
Tonight the weekly radio show Kreislauf, hosted by Dj Mogwai, will be focused on zymogen featuring an interview with Filippo, the coordinator of the label, and a preview of three unreleased tracks produced by D'incise, 1/3 of Diatribes.
The show will be broadcasted at 22:00 cet

@ bermudafunk
ukw 89,6 mhz (mannheim)
ukw 105,4 mhz (heidelberg)

@ tide 96.0
ukw 96,0 mhz (hamburg)

You can also download the show or stream it from Kreislauf podcast section.

Enjoy!
Broadcasting take1
07 Jun 2006
Today at 22:00 cet, on the german netradio Minimalkang, will be broadcasted a show dedicated entirely to Zymogen material.
Will be previewed also our forthcoming release, "Monocline" , entirely produced by Stephen Walter who, after exploring idm music with two releases on Retropublik netlabel under the moniker SW, shifted to an introspective and deep sound near to Biosphere sonorities.
...take some time for it.
Archived News
---
2009
2008
2007
2006
2005
---
Mailing List
---
Last Releases
zym026
Alessio Ballerini - Blanc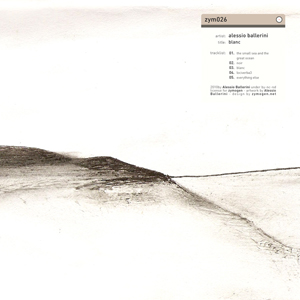 "Blanc" is a concept album that does not represent opposing views, but dissimilar ones. Downloadable from Zymogen the release is also accompanied by 2 videos and 15 drawings. The two videos were creat...(more)
zym025
Nicolas Bernier + Simon Trottier - The Market Fresh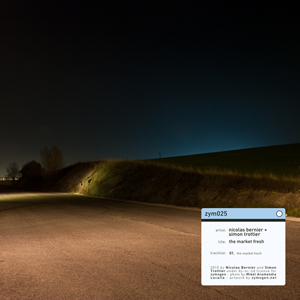 Nicolas Bernier and Simon Trottier are two talented musicians from Montreal, Canada. Nicolas is an electroacoustic artist and founder of Ekumen collective more recently famous for his live performance...(more)
zym024
Werken - Sum
Sum is the debut album of Werken, one of the aliases of Tilman Ehrhorn known for his releases on Mille Plateaux and Resopal Schallware.
Working full time as saxophone and reed player, composer, produ...(more)
---
---