---
news
18 Jun 2007
David Velez is better known as Lezrod and has released a couple of releases under this moniker on both Zymogen and Test Tube. His latest work Genki consists of two parts which are simultaneously and separately released on both Zymogen and TestTube as a collaboration between both net labels.

The title Genki is derived from the contraction of two words:
- Gene, which answers.com describes as ''hereditary unit consisting of a sequence of DNA that occupies a specific location on a chromosome and determines a particular characteristic in an organism''
- Ki, which refers to the Kanji symbol for ''spirit, mood''. In a wider sense it also stands for the concept originating from traditional Chinese culture 'to be part of every living thing that exists, as a kind of ''life force'' or ''spiritual energy''

Concerning new musical achievements Genki I and II are not only a great step forward compared to earlier releases, both volumes also mark a transition to a new period in David Velez' life, from quitting his job in Bogota, Colombia for working full time on his music to moving to Queens, NY (in the northeast of the United States) with a new job in an unfamiliar environment and a different culture.
Icon
16 Jun 2007
Despite not being awarded at Qwartz award, two tracks by Zymogen artists (''Soucer's Race'' by Songraphie and ''Nada'' by Lezrod) have been selected by the mighty Pierre Henry, among all the ones nominated, for his personal palmares of Qwartz third edition.
Zymogen staff and artists want to thank Pierre Henry, Musique Concrete pioneer, for this great honour and for taking time to listen to our music.

Thank you very much Pierre!
Sonar Intruder
10 Jun 2007
Bacanal Intruder will play live at Sonar Festival, to be held as always, in the Catala capital, Barcelona.
Luis will go live in the second day (June 15), at Escenario Hall (Sonar by Day) before Sunn o))) and Clark...be there!

Ole!
Archived News
---
2009
2008
2007
2006
2005
---
Mailing List
---
Last Releases
zym026
Alessio Ballerini - Blanc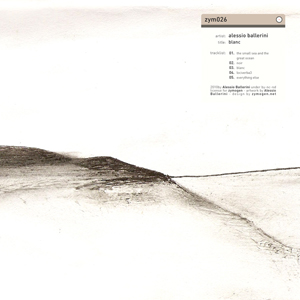 "Blanc" is a concept album that does not represent opposing views, but dissimilar ones. Downloadable from Zymogen the release is also accompanied by 2 videos and 15 drawings. The two videos were creat...(more)
zym025
Nicolas Bernier + Simon Trottier - The Market Fresh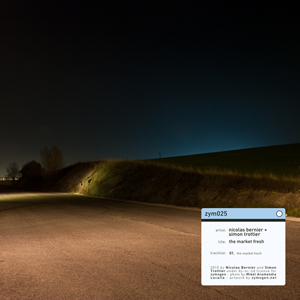 Nicolas Bernier and Simon Trottier are two talented musicians from Montreal, Canada. Nicolas is an electroacoustic artist and founder of Ekumen collective more recently famous for his live performance...(more)
zym024
Werken - Sum
Sum is the debut album of Werken, one of the aliases of Tilman Ehrhorn known for his releases on Mille Plateaux and Resopal Schallware.
Working full time as saxophone and reed player, composer, produ...(more)
---
---