---
news
Con_cetta new album out now on Moteer
29 Jun 2008
Zymogen former artist Con_cetta has just released his brand new album 'Micro' on the british label Moteer:

"New Moteer acquisition Con Cetta hails from Sicily, expanding upon the label's established sound with an album of beautiful, evocative processed sounds, exploring the properties of the looping and layering techniques available in the post-glitch era. While much of this album might be seen to approximate the classic clicks+cuts sounds of late period Mille Plateaux, there's a sublime late night aesthetic here that's effortless and hugely involving, perhaps more closely resembling the more melodically accommodating sounds of Mokira or even 12k's shuttle358 on 'Connecting Forming Averaging Positive'. More shuffling ambient strategies follow on 'Ken', which takes some emphasis off beat-like rhythms and instead immerses the listener in the granular judder of Con Cetta's lively circuitry, something perhaps best exemplified by the Tim Hecker-like piano and field recording blur of album closer 'Mentis'. "Micro" establishes a wonderful harmony between the familiarly warm, melodic compositions of the Moteer sound and a more experimental, ambient approach to electronic music, making for another exceptional transmission from this always-great label. Gorgeous music - Essential Purchase."

Album of the week on Boomkat, obviously recommended.
18 Jun 2008
Jimmy Behan released his debut album 'Days Are What We Live In' in 2004 before taking time out to study for a Masters in Music & Media Technologies from Trinity College, where his thesis focused on the compositional possibilities of creative sampling techniques.
Currently, his work focuses on finding emotional connections between the physicality of sounds and their contexts. The physical characteristics of sounds (dynamics, texture and space) are explored via a range of processes before determining the emotional tone of a piece.
The 'In the Sudden Distance EP' attempts to capture that moment when the present suddenly becomes the past, rendering the passing of time as a sudden shift in perspective. Recorded around the time of a relocation to his home town after 16 years, it revolves around themes of change, memory and redemption.
With this concept work Jimmy brings Zymogen to a higher level in the exploration of electronic soundscapes.
Archived News
---
2009
2008
2007
2006
2005
---
Mailing List
---
Last Releases
zym026
Alessio Ballerini - Blanc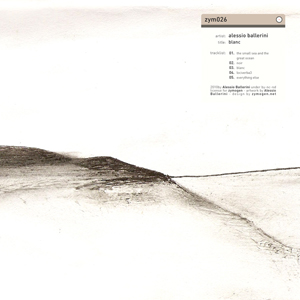 "Blanc" is a concept album that does not represent opposing views, but dissimilar ones. Downloadable from Zymogen the release is also accompanied by 2 videos and 15 drawings. The two videos were creat...(more)
zym025
Nicolas Bernier + Simon Trottier - The Market Fresh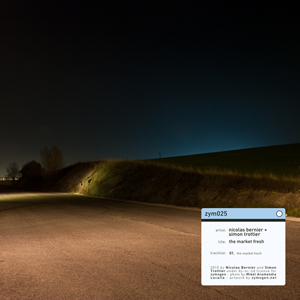 Nicolas Bernier and Simon Trottier are two talented musicians from Montreal, Canada. Nicolas is an electroacoustic artist and founder of Ekumen collective more recently famous for his live performance...(more)
zym024
Werken - Sum
Sum is the debut album of Werken, one of the aliases of Tilman Ehrhorn known for his releases on Mille Plateaux and Resopal Schallware.
Working full time as saxophone and reed player, composer, produ...(more)
---
---