---
news
Relay: A dialogue between sound artists
21 Aug 2008
Jimmy Behan has been invited to be part of the Relay project.

"Commissioned by the Model Arts and Niland Gallery as part of model::offsite, Relay is an online music project curated by musician John Lambert (aka Chequerboard).
Lambert will invite a selection of irish and international sound artists and musicians to contribute to Relay over the duration of the project.
He will record an initial sound work and then relay this piece to the first contributor. Each work will be published online as it is completed, and this page will map the path of this dialogue of ideas between artists."

You can hear/read Jimmy's contribution here.
Loscil, TBA and others will follow.
Color for me
07 Aug 2008
Former Zymogen artist Marihiko Hara has contributed to a very interesting remix-project run by Sawako.

"Take the sounds from Sawako's Summer Tour field recordings, and make new material with them. That's all the artists were asked to do. The result is a collection that displays the range of artists and the range of approaches. Some use only the original source sounds. Some use them sparingly in the context of a new song. Some add new instrumentation to an otherwise field recording-heavy piece. The common thread is that we love them all."

Summer Tour Volume 2 is available for free download on Anticipate website.
Archived News
---
2009
2008
2007
2006
2005
---
Mailing List
---
Last Releases
zym026
Alessio Ballerini - Blanc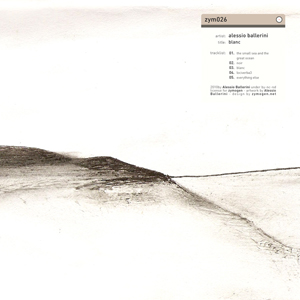 "Blanc" is a concept album that does not represent opposing views, but dissimilar ones. Downloadable from Zymogen the release is also accompanied by 2 videos and 15 drawings. The two videos were creat...(more)
zym025
Nicolas Bernier + Simon Trottier - The Market Fresh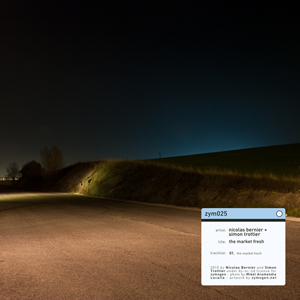 Nicolas Bernier and Simon Trottier are two talented musicians from Montreal, Canada. Nicolas is an electroacoustic artist and founder of Ekumen collective more recently famous for his live performance...(more)
zym024
Werken - Sum
Sum is the debut album of Werken, one of the aliases of Tilman Ehrhorn known for his releases on Mille Plateaux and Resopal Schallware.
Working full time as saxophone and reed player, composer, produ...(more)
---
---