---
news
Add-on
23 Sep 2005
New fresh addition on our artist's page: Songraphie, a duo from Russia with already three high quality releases for the nice Otium netlabel.
Check their last work Melt Numb, a small and intensive EP full of beauty.

16 Sep 2005
For the first release of zymogen.net we bring you the debut album of David Velez, Lezrod, a brand new artist from BogotÓ , Colombia. Raln (Retorno a la nada), represents an exploration into David's personal style of composition; these songs were produced between april and september of this year, while David was exploring many different ways to express his feelings with music, but always with his very personal style of composition.
The opener 'Blach' sets the standard of the entire album with a harmonious whole of bleeps, moody atmospheres, moving drones, jazzy samples and a reverbered piano wich create an intense growing up. 'Spr.m' slows down the nervous atmospheres of 'Blach' into a dilated and melancholic mood assembled with similar elements of the previous one, also including the distant notes of a piano, that bring the listener to 'Lzblnc', the most recent work, showing the latest developments of Lezrod's music: an interlacement of field recordings surrounded by warm ambient pads in constant mutation between airy reverberations and resonant mid frequencies.
'Nada' continues on the same line but with a different approach, more immediate and direct to heart, preferably broken, with melancholic guitar strings immersed into a deepness of soft pads and glitchy sounds, but after these distensions there's an harsh break, 'Alvp'. This song can be interpreted as the intruder of the entire album with bouncing rythms and joyful melodies, but with this captivating elements will be absolutely the one hard to forget.
The final part of Raln has 'Pz' and 'Dm' as balancing elements of a perfect conclusion, the first one takes back the dilated sonority of 'Lzblnc' and the second one the structures of 'Blach' through an intensive work of frequencies saturation. This songs are the result of a deep work of research and I hope that this research will be never ending for other nice works like this.
Operative
15 Sep 2005
Finally, but with a little delay, the definitive version of zymogen is up and is running on your browser (still internet explorer?), anyhow during these days there will be lots of adjustments, so if you notice some bugs tell us, is very important for our improvement.
Soon will be ready our first newsletter, so register your mail address in the form on your right to be updated with zymogen.
Zymogen is on EM411
01 Sep 2005
We've created our personal (em)page on EM411 to get in touch with new artists, create a community and of course to spread our music.

It'll be an opportunity to have a direct link with people who appreciate our engagement.

Soon we'll be active also on http://zymogen.em411.com.
Archived News
---
2009
2008
2007
2006
2005
---
Mailing List
---
Last Releases
zym026
Alessio Ballerini - Blanc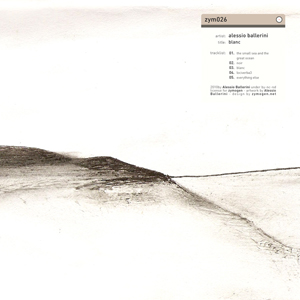 "Blanc" is a concept album that does not represent opposing views, but dissimilar ones. Downloadable from Zymogen the release is also accompanied by 2 videos and 15 drawings. The two videos were creat...(more)
zym025
Nicolas Bernier + Simon Trottier - The Market Fresh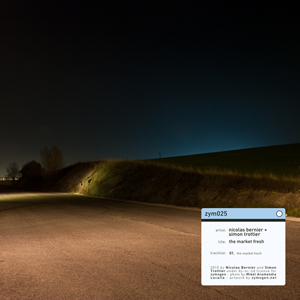 Nicolas Bernier and Simon Trottier are two talented musicians from Montreal, Canada. Nicolas is an electroacoustic artist and founder of Ekumen collective more recently famous for his live performance...(more)
zym024
Werken - Sum
Sum is the debut album of Werken, one of the aliases of Tilman Ehrhorn known for his releases on Mille Plateaux and Resopal Schallware.
Working full time as saxophone and reed player, composer, produ...(more)
---
---