---
news
27 Sep 2007
Zymogen celebrates its second anniversary with a release composed by Marihiko Hara, from Kyoto, Japan.
Here we have one of the most interesting young Japanese producers to date, also a member of the experimental-pop collective, Rimacona-Lab.

Cesura, Hara's debut album, emits melodies that have been compressed into subtle layers and thin sound-scapes.
The piano is his trademark, and when coupled with the other acoustic instruments he employs, we get digital samples that float endlessly via loops and high frequencies throughout the entire album, as in 'Sleep', 'Cesura', and 'Konstellation'.

Silence is the other vitally important element of 'Cesura'. It is often balanced with drones and white noise (as in 'Vision', 'Spectrum', 'Consonance', and 'Ripple') and is treated as an active part of the sound Hara makes. It serves as the basic color of the canvas, which he slowly fills with thin colored stokes. On the final track, entitled 'modena', Hara collaborates with Natsuko Yanagimoto: a vocalist and second half of the experimental-pop duo, Rimacona. Here, an over-processed voice is surrounded by flickering sounds, which resonate intimate tones and an overall emotive atmosphere.

Marihiko Hara designs minimal sound sculptures with poetry and soul, gives weight to pauses, and breaths life into silences and melodies without emphasis.
Cesura is such poetry.

Cesura is also available in lossless Flac format.
Netaudio Berlin
23 Sep 2007
Zymogen is headed to Netaudio Berlin!

"From 5 October to 7 October 2007, the brains behind the netaudio phenomenon, namely labelheads, netaudio-artists, podcasters and other representatives of the digital music business, will gather at the Netaudio.Festival.Berlin.
It will be the third in a row of festivals which have been held within the last 2 years (Bern, Switzerland, 2005 and London, UK, 2006) .
Berlin, representing the musical capital of Europe, will host producers and consumers of digital music from all over Germany, Europe and overseas in order to provide a vivid insight into the netaudio-realm.
Prepare for a stunning multimedial event with 3 days of netlabelmusic, video, discussions and workshops."
Festivals pt. 2
18 Sep 2007
Two Zymogen artists will participate at two separate festivals around the world.
D'incise will play live at Ipercorpo festival on the 9th of October, which will be held in Forli (Italy); Ipercorpo is a multi disciplinary festival which aims to combine theatre performance with electronic music.
It will feature live sets by AGF, Stefano Pilia and other Italian musicians.

Whilst on the other side of the globe (in Boulder, Colorado) on the 29th of September, Ten and Tracer will go live for Communikey 4D, where our friend will share the stage with Sawako, Kangding Ray and Thomas Fehlmann + Daniel Meteo.
It will be a great evening of electronic music.

Choose one and be there.
Archived News
---
2009
2008
2007
2006
2005
---
Mailing List
---
Last Releases
zym026
Alessio Ballerini - Blanc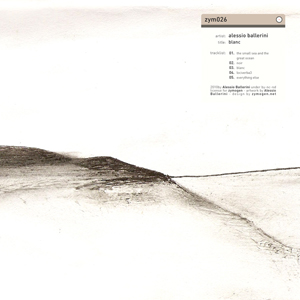 "Blanc" is a concept album that does not represent opposing views, but dissimilar ones. Downloadable from Zymogen the release is also accompanied by 2 videos and 15 drawings. The two videos were creat...(more)
zym025
Nicolas Bernier + Simon Trottier - The Market Fresh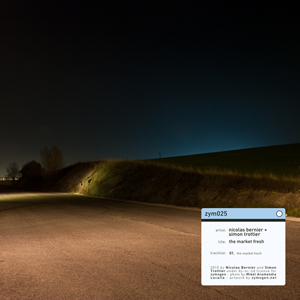 Nicolas Bernier and Simon Trottier are two talented musicians from Montreal, Canada. Nicolas is an electroacoustic artist and founder of Ekumen collective more recently famous for his live performance...(more)
zym024
Werken - Sum
Sum is the debut album of Werken, one of the aliases of Tilman Ehrhorn known for his releases on Mille Plateaux and Resopal Schallware.
Working full time as saxophone and reed player, composer, produ...(more)
---
---