---
news
23 May 2007
After one year of silence Takeshi Nakamura, one of our top contributors, returns with a brand new album, again taking us to the fringes of electronic music.
''Miscellaneous Goods'' is a ten track album where Nakamura draws on new inspiration, binding abstract elements to form compositions that cross the thin line standing between sound and noise.

Each track from this album has a cerebral birthplace, emerging as abstract figures which Takeshi has tried to fix into such titles as, Gap, Collapse, Degeneration, Dining Table, Array. The sound must be contemplated and explored, like standing in front of a carved monolith of vibrations.

Contemplation is the keyword for approaching Takeshi's music, like having a passive aural experience but standing in the fields of the audible, of music. Just like the great sound artists, such as Ryoji Ikeda or Autechre are still doing, Takeshi Nakamura succeeds in translating personal feelings into pure digital data. However, the feelings translated in this album are at times troublesome and oppressive.
Here you won't find lovely melodies, solar soundscapes, nor easy beats. Nakamura's inspiration stands somewhere else and that's why Miscellaneous Goods is tough, complex, and needs time in order to be fully understood.
Synched
15 May 2007
Our brand new artist, AZA, will feature at Synch festival, one of the best electronic events in the world, taking place in Athens from the 22nd to the 24th of July.
AZA will perform a special live set at Auditorium 984 on the 22nd, among Leafcutter John, Spyweirdos, and many other great sound artists.
If you are nearby, then we strongly encourage you to be there!
Archived News
---
2009
2008
2007
2006
2005
---
Mailing List
---
Last Releases
zym026
Alessio Ballerini - Blanc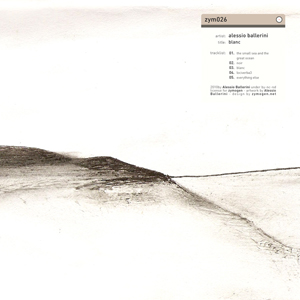 "Blanc" is a concept album that does not represent opposing views, but dissimilar ones. Downloadable from Zymogen the release is also accompanied by 2 videos and 15 drawings. The two videos were creat...(more)
zym025
Nicolas Bernier + Simon Trottier - The Market Fresh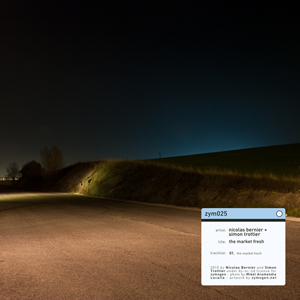 Nicolas Bernier and Simon Trottier are two talented musicians from Montreal, Canada. Nicolas is an electroacoustic artist and founder of Ekumen collective more recently famous for his live performance...(more)
zym024
Werken - Sum
Sum is the debut album of Werken, one of the aliases of Tilman Ehrhorn known for his releases on Mille Plateaux and Resopal Schallware.
Working full time as saxophone and reed player, composer, produ...(more)
---
---